The German-American Society in Husum unites people who have a keen interest in a dialog with America. Our society focuses on the exchange with the US and Canada – and vice versa. We keep our relationships and connections alive in lectures and on study trips. We want to be attentive hosts.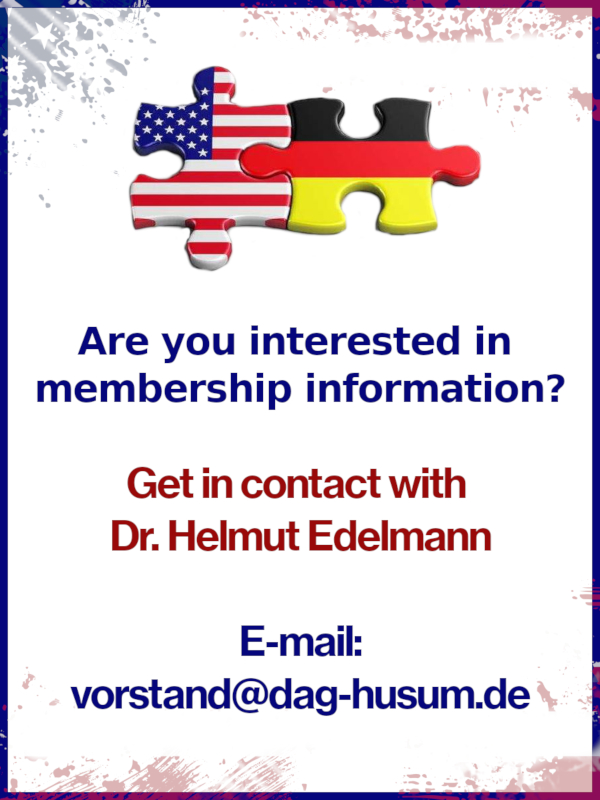 It is a core interest of the German-American Society Husum (DAGH e.V.) to promote mutual understanding between Germans and Americans.
We are committed to the exchange of views and knowledge. Education in German culture and history and in American culture and history is part of our work.
Our transatlantic exchange includes joint events, meetings and celebrating holidays such as Independence Day or Thanksgiving.
All in all, we invite you to an inspiring broadening of horizons. Our slogans are: "think outside the box" and "widen your view". In civil responsibility, we contribute to society whether it is local or worldwide.
Past experiences prove us right. Without the awareness of a global (cosmopolitan) responsibility for a critical-constructive dialog, the world would be poorer. The historical ties are embedded in our common but fragile transatlantic values. The millions of Germans and Europeans who emigrated in masses from our countries remain within the view of our meeting horizon.
For us, the dialog with America means: "a self-confident formulation of our own position as our own European concept of transatlantic relations. Today's dialog requires both: a deeper understanding of American culture (and religion) from which an increase of politicization emerges into American society and new thoughts about the different nature of the relationship between politics and culture in Europe… Certainly within this dialog, there will be also a place for a critical analysis of developments in America. But even more important is the formulation of an independent European position on this topic." (W. Huber, former bishop of the EKD/Berlin)
We are dedicated to
day-to-day politics and social movements in the US and Canada.
exchanging views and discussing transatlantic values and principles of market-based democratization.
the exchange on church and religion and the religious market in context of the Western world.
emigrant questions and topics of German-American history.
We network in and around our state of Schleswig-Holstein with the
Locally we foster relationships with the
Calvin College in Grand Rapids, Michigan (school exchange)
Rotary Club Husum (study exchange program)
Adult Education Center, Husum (America Day)
Bundeswehr in Husum (unit: FlaRakG1)
ASHHS (a traditional society for Low German)
other partners (on occasion)
We organize
visiting trips to America.
We inform
about people, events and facts worth knowing.